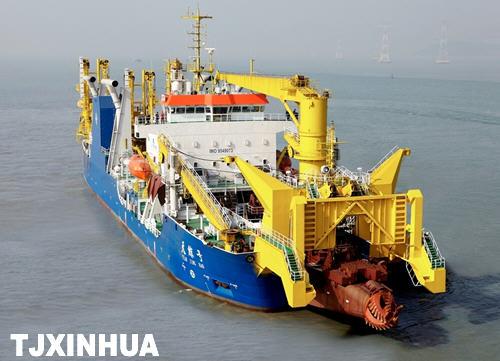 Sky whale dredger
Russia the expert magazine online September 17, United States intelligence agencies and Asian countries are working very closely to monitor very large self-propelled cutter suction dredger "whale" in the South China Sea, every move. This dredger can be redrawn map of South China Sea and borders directly, and can be worked around, available 24 hours a day without stopping work.
Latest reconnaissance information showing that the dredgers are currently busy working over the Nansha Islands, China, and the Spratly Islands is stumbling block to relations between China and its Asian neighbors, including Viet Nam, the Philippines, Brunei and Malaysia. Chinese dredger is being used rapidly reef cliffs become uninhabited small island, and then you can build buildings, building fortifications, building industrial enterprises, even small and medium sized airports.
Now, Chinese dredger are 6 Islands reef of the Nansha Islands. Security experts believe that China's use of "sky whale" dig up mud from the seabed dredging made the island, increasing the number of Islands, ambitious, and has an obvious provocative nature. In the context of tension in the South China Sea region, any little spark would be enough to trigger a major armed conflict.
China dredging efficiency of an equally impressive, it can dig up from the Harbour to the sea 4500 cubic metres per hour sand, which is enough to make it in less than 10 months away from 5 Spratly reefs becomes almost impossible to recognize it. Latest picture suggests that a Beijing based the 127-metre-long ultra large dredgers, only in the last 3 months, will bring the two islands of Nansha Islands to be able to start construction of the State.
China's "sky whale" very large dredgers yongshu reef in strategically important areas of activity is to let neighbors very uneasy, because many important shipping routes passed through it. The Pentagon believes that at this stage, China the possibility of construction of military on the island is very low, because they can be easily be destroyed the target, Viet Nam military missiles without difficulty eliminated. But the Pentagon is very clear, even plans to build a small port or a light aircraft landing strips, or it may be China's construction in the area xunluoqu or a part of the long-term plan for air defense.
Many observers and experts believe that being "physically grow" island, is mainly used to enhance China's territorial claims to the area, and China's thirst for mineral resources and the strategic, may lead to conflicts between China and neighbouring countries. Area according to this script development are quite high. May wish to recall that in May this year, China offshore oil rig and Viet Nam disputes regional operations, triggering a Viet Nam wave of mass anti-Chinese riots in the country, Beijing was shocked by its strength and size, and even.
Occupation of the Philippines in Spratly Islands are often raised and China's territorial disputes, often leading to intensification of relations between China and the Philippines. The other hand, chiguajiao as early as 1988, has become China and Viet Nam warship conflict, ten people had been killed.
Also loudly protested China's territorial claims in the Philippines, Beijing is, as always, stick to their traditional positions, emphasizing there is no island in the South China Sea sovereignty dispute, as these islands have always been Chinese territory, does not belong to each other. Many foreign diplomats believe China Sea of dredging jobs may be a challenge.